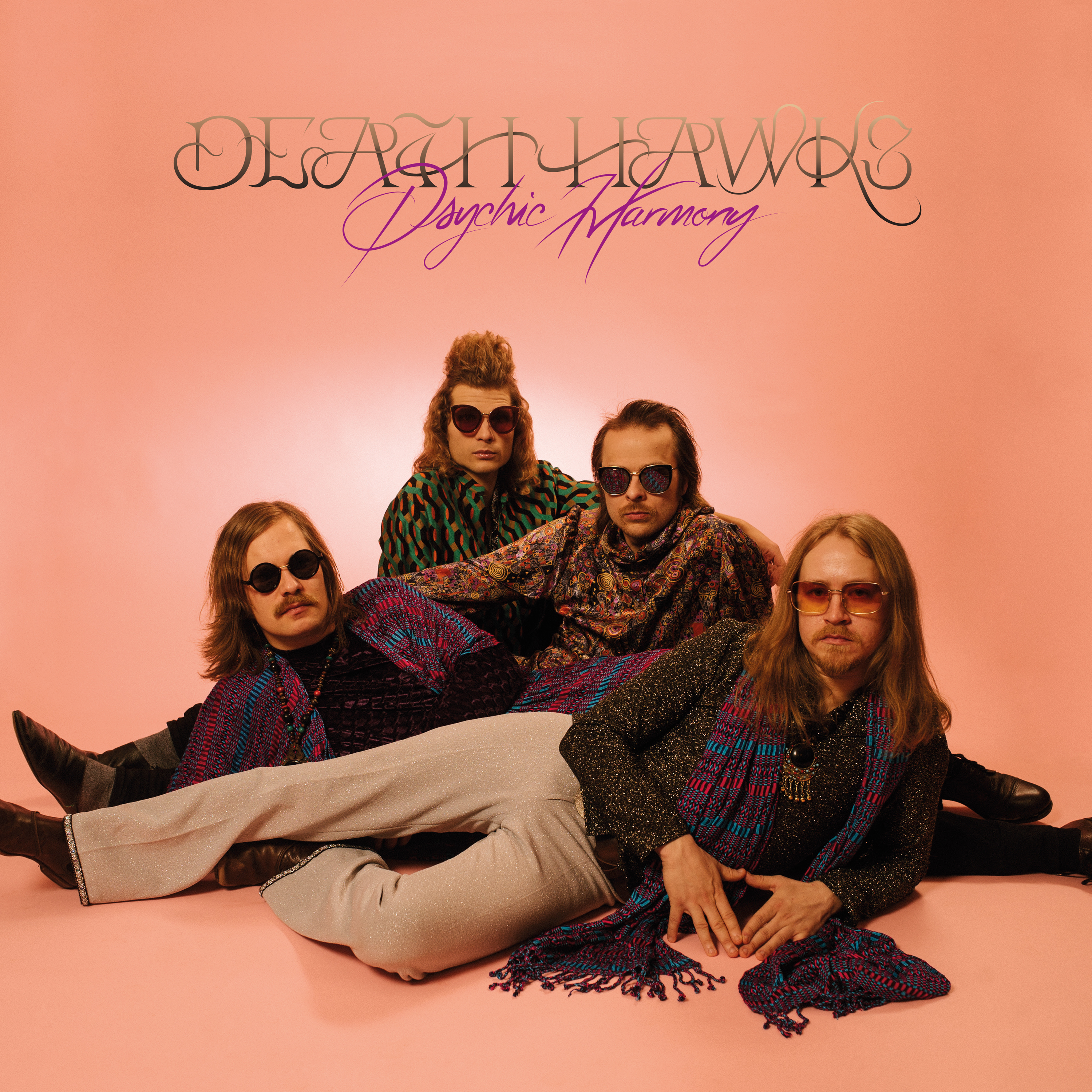 Our new album "Psychic Harmony" will be out on June 7th and pre-orders are up!
The physical formats are CD & LP and you can get the LP in black,bone white or purple/green!
Orders from our record label
Svart Records
On the flip side of the days of northern darkness are the endless sub-Arctic summer nights, where the midnight sun never sets and Finnish nightlife is brilliantly illuminated. Here happiness has a deeper meaning. This is where Finland's Death Hawks have spread their unique wings, phoenix-like, on their fourth full-length album Psychic Harmony. Stemming from a rich foundation of euphoric stage shows that has seen the band electrify and joyously anaesthetise their audiences at home and abroad over the years since their inception in 2011, with luxurious synths, psych-blues and climactic jazz sections, this is the quartet's bravest and most eclectic trip into the unknown so far.
If The Line Of Best Fit called their second album " An uncommonly brave and successful reinvention," Psychic Harmony takes Death Hawks into the next stratosphere. Among the top 10 finalists for the Nordic Music Prize in 2013 and nominated for a Finnish Emma award in 2014, Death Hawks have been close to the hearts of industry critics and fans alike for many years now, for their ecstatic live sets and entrancing harmonies. Cutting their teeth touring with bands such as Circle, relentlessly honing themselves as transcendent spirit-guides of deep psych rock, their new album sees Death Hawks take that mantle and bravely head out into uncharted waters.
As if Sophia Coppola got high with Wes Anderson on the Finnish archipelago in late summer, with the cerebral futurism of their nordic disco countryman Jori Hulkkonen remixing Piirpauke or Wigwam as their soundtrack, Psychic Harmony is a journey into the meaning of euphonic connection itself. It's boldly cinematic, but their soundscape movie is a genre crash of beautiful alienation, stranded on a desert paradise full of surreal life-forms. Featuring guest appearances by Pekko Käppi on bowed lyre and violin, and lush vocals by Nicole Willis on I Am A Tree, Psychic Harmony is an opulent vista.
Spinning out under the mirrorball, the album coolly references modern acts like Thundercat, The Seshen, Fever Ray and Evil Needle mixed with chic French connections from Francoise Hardy to Daft Punk, Serge Gainsbourg and his daughter Charlotte. Sophisticated tranquil pop songs like the single track Scent Of Life or the synth swathes of Synchronicity bring to mind the timeless dance-floor mastery of Madonna, Prince and Michael Jackson, with all the eclectic abandon of 70s greats like Aphrodite's Child, Yes and Funkadelic. Lead singer/guitarist Teemu Markkula calls their influences "soulful connections for a fuller and higher vibration. Different languages so to speak but all from the same source connecting in harmony."
This is personal psychedelia, with lyrics that reference a blissful state of metamorphosis, like "step into a new world," the enlightenment of " a new beginning" and "dancing in a spiral of change," Death Hawks have come into their career stride, finding their own personal groove and sense of rhythm on this re-defining album.
On their continual shift in sound, Teemu Markkula expounds:
"We have always been searching new unforeseen ways in music to express ourselves. It is almost like a chemical reaction. Combining pieces of different elements can lead to an explosion or maybe to a state of euphoria. A sense of harmony is usually what does the trick for me."
He adds: "It's a continuous quest for new. To get stuck, stay put, or stuck in reverse even is certain death. That's why for us it's better to stay lost (even) and keep flying and searching. Inspiration is a highly addictive feeling."
Jewels of Finland's rising music treasures, Death Hawks are soaring with Psychic Harmony, and your sonic flight on their sound waves will connect you to higher vibrations. Death Hawks are out there on their ocean of sound, ready to lift you up when you feel like you're slipping under.